Hotel Desire
Swingers Hotel, Costa Rica
---

Erotic and sensual, Hotel Desire Costa Rica's clothing-optional atmosphere tropical experience is without compare! Enjoying an all inclusive vacation amidst beautiful Costa Rican volcanoes and lushness. Intended for open-minded adults, the Hotel Desire Costa Rica has estate villa accommodations, gourmet dining, and intriguing activities for your enjoyment.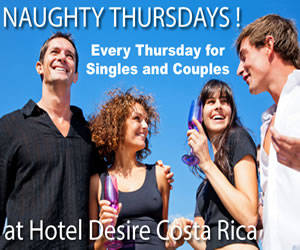 Seductively placed on the slopes of the San Jose valley, the resort offers seclusion yet with a central location for a world of pleasure and excitement in the resort and outside in happening San Jose, or on either Pacific or Caribbean coast, only a day trip away! A sensual setting for adult activities such as yoga classes and other couples sports, this adults only experience is the perfect couples hideaway to surrender to passionate endeavors in an enclave of luxuriant atmosphere, Costa Rica's renowned lushness in an amazing setting.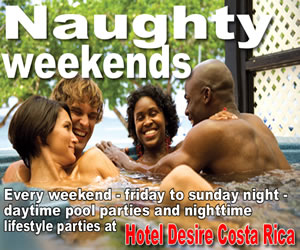 To find out more about Hotel Desire Costa Rica or to make a booking visit their website at www.hoteldesirecostarica.com/
Visit Resort Home Page
Back to Country List
Back to Home Page
Swing On Holiday
Please Remember
We are a listing service. We do not sell holidays or take holiday bookings ourselves.
Follow the links in the resort listing to contact the resort directly to make your booking.
Let them know that your found their information on "Swing On Holiday.com"
Enjoy your holiday
Jo & David
Dead Listing
If you have followed the links and the resort website is no longer available please use the form on the contact page to let us know the resort name and country so that we can remove it from the listings.
Thanks
Jo & David
Missing Resort
If you run a swingers lifestyle holiday, a naturist holiday or an accompanied holiday or you know of any lifestyle holidays we have not listed, please use the form on the contact page to let us know the resort name and website address so that we can share the details with other swingers.
Thanks
Jo & David