Temptation Resort & Spa
Swingers Holidays, Cancun, Mexico
---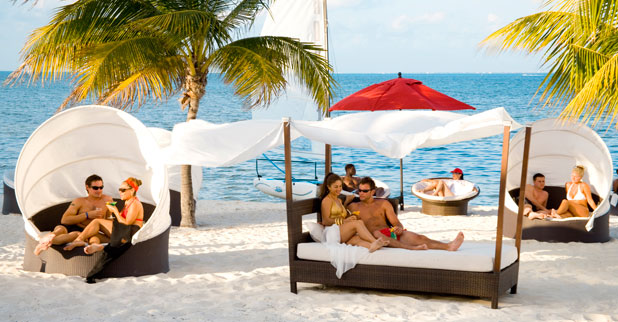 With an innovative concept, Temptation Resort Spa Cancun welcomes you to experience an exhilarating take on the all inclusive holiday. A hip vibe is the hallmark of this beachfront, topless optional hotel where the vibrating, sexy and adults only atmosphere gets you totally invigorated and relaxed. Play and tan on a white sandy beach of the Caribbean or socialize with other guests of the hotel at our three spectacular swimming pools, themed with different concepts: relaxation, sports and fun entertainment. Temptation has those perfect spots that will make your vacation in Cancun a delight.
Exquisitely decorated, Temptation Resort Spa Cancun offers accommodations in two categories Deluxe Rooms and Jacuzzi Suites. All of them feature luxury and practical amenities as well as private terraces or balconies, providing an ideal spot for a well-needed rest or a romantic, private rendezvous. Savor new, gastronomic highs with delicious dining options that include gourmet, à la carte restaurants as well as world class buffets. Temptation Resort Spa Cancun invites you to discover our bars and enjoy selected premium liquors, an extensive, martini menu and exotic cocktails.
As part of our original, all inclusive plan, Temptation's cast members will lead the charge each day with fun, sexy and adventurous activities that range from water, beach sports and pool games to tempting contests that will warm even the iciest participants. In our topless optional ambiance, guests can choose whether to engage in the excitement or just stay away from the crowds and enjoy romantic moments in the jacuzzi of the quiet pool. With adults only oriented shows and games, our professional nightly entertainment will dare you not to be tempted. Either with your partner or with friends, Temptation Resort Spa Cancun will provide you with infinite options to enjoy your, soon to be, most fun vacation ever.
Book your next swingers holiday at Temptations resort, Cancun here.
Visit Resort Home Page
Back to Country List
Back to Home Page
Swing On Holiday
Please Remember
We are a listing service. We do not sell holidays or take holiday bookings ourselves.
Follow the links in the resort listing to contact the resort directly to make your booking.
Let them know that your found their information on "Swing On Holiday.com"
Enjoy your holiday
Jo & David
Dead Listing
If you have followed the links and the resort website is no longer available please use the form on the contact page to let us know the resort name and country so that we can remove it from the listings.
Thanks
Jo & David
Missing Resort
If you run a swingers lifestyle holiday, a naturist holiday or an accompanied holiday or you know of any lifestyle holidays we have not listed, please use the form on the contact page to let us know the resort name and website address so that we can share the details with other swingers.
Thanks
Jo & David